Sugar Free, Fat Free Healthy Eggnog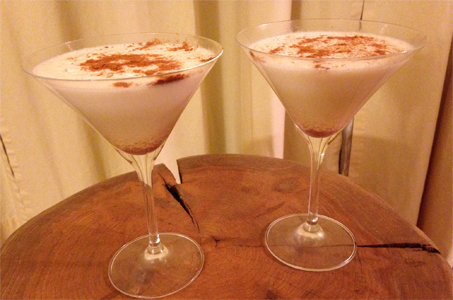 I love eggnog so much, I wish I could drink it all year…
and with this recipe, I can!
It's even packed with protein because of the eggs.
If you can't do dairy, feel free to replace the regular milk with the milk of your choice.
SUGAR FREE, FAT FREE HEALTHY EGGNOG
2 1/4 c. non fat milk
2 eggs
1 tsp. alcohol-free vanilla
1 – 2 packets NuNaturals stevia
1/2 tsp. nutmeg
1/4 tsp. cinnamon
In a blender, combine coconut milk, almond milk, eggs, alcohol free vanilla, stevia, nutmeg and cinnamon. Blend on high speed until the mixture is frothy. Chill before serving. Pour into glasses, and garnish with a dusting of cinnamon and a cinnamon stick. Happy holidays!
Note* If you're concerned about the risk of salmonella or other food-borne illness, simply dip the eggs in boiling water for 30 seconds.
This will effectively sanitize the eggs, if they have been properly refrigerated.