Mini Double Layer Peppermint Patty Cake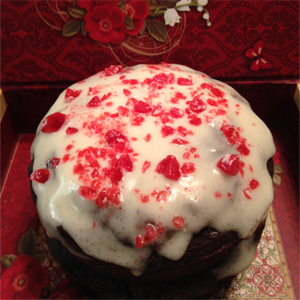 This cake is like eating a giant peppermint patty!
And it can be a great mini dessert for a holiday party -
especially if you sprinkle some crushed peppermint on top.
Gluten Free, Sugar Free, Vegan and simply delicious!
and with this recipe, I can!
MINI DOUBLE LAYER PEPPERMINT PATTY CAKE
1 c. unsweetened apple sauce
1/4 c. NuNaturals Stevia Baking blend
1 tsp. vanilla extract
1 egg or vegan egg substitute
3/4 c. Oat Flour
1/3 c. unsweetened Cocoa
2 tsp. Baking powder
1 tsp. baking soda
dash salt
1/8 tsp. cinnamon
1/2 c. Lily's stevia chocolate chips
1/2 Tbsp. of crushed peppermint (optional, for decoration)

Preheat over to 350 F.
Mix apple sauce, sugar, vanilla, and beat in egg.
In a separate bowl mix flour, cocoa, baking powder, baking soda, salt. Add flour mixture to wet mixture a little at a time, stir in chocolate chips.
Spoon batter into 2 6 inch mini round casserole ceramic pots. Bake for about 20 minutes or until tops are firm to touch. (don't over bake!)
PEPPERMINT PATTY CAKE FILLING
6 ounces Tofutti Cream Cheese
1 1/2 c. powdered Erythritol (I use the one by Sensato)
2 Tbsp. NuNaturals peppermint stevia
1 Tbsp. almond milk
Use a hand mixer to beat together the cream cheese and the powdered sugar about 1/2 cup at a time, beating at low speed after each addition. Once the sugar is totally incorporated, add the peppermint stevia and milk. Beat the frosting for 1-2 minutes, or until smooth. You can adjust the thickness of the frosting by adding more powdered sugar (if you want it to be thicker) or more milk (if you want it to be thinner).