Healthy Fried Chicken & Ballet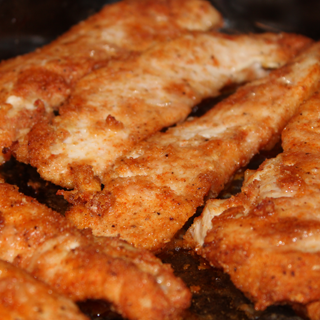 Isn't this an oxymoron? Find out my special ingredient for turning America's favorite junk meal into something that's actually good for you! It's definitely a high-protein recipe, plus it will totally satiate your cravings for fried food! You can also turn this recipe into a vegan dish by substituting tempeh or seitan for chicken. While the chicken is cooking, I will lead you through a ballet-inspired workout. Don't worry, you don't need to be a dancer for this workout! You will work muscles you've never worked before, challenging your mind and body with this routine. All you need is a mat!
HEALTHY FRIED CHICKEN
1 lb. Organic Free Range Chicken Breast or Chicken Tenders (cut into strips)
2 Tbs. Almond Meal (can be found at Grocery Stores)
1/4 c. Grated Parmesan Cheese
1/8 tsp. Paprika
Salt and Pepper to taste (I like to use Coarse Sea Salt)
Preheat oven to 350 Degrees. Coat baking pan with Olive Oil or Canola Oil Spray. Add everything except the chicken into a large Ziplock bag.
Shake to mix. Throw in the Chicken and shake again, making sure the chicken is completely coated with the mixture.
Then lay the chicken flat onto the baking sheet. Bake for 20-25 minutes while you get your workout in!