"Free of Everything" Peanut Butter Cupcakes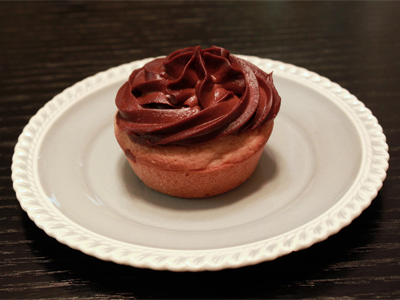 You would never guess that these cupcakes are
gluten free, sugar free, dairy free and vegan!
They have the secret ingredient of PB2,
which is one of my favorite things I've discovered.
Just make sure you don't leave them in the oven too long
as they tend to dry out.
PEANUT BUTTER CUPCAKES
3/4 c. Almond Milk
2 tsp. Apple Cider Vinegar
1/2 c. PB2
1/4 c. Water
1/3 c. Coconut Oil, melted
2/3 c. Erythritol
2 Tbs. Sugar Free Maple Syrup
1 tsp. Vanilla Extract
2 tsp. Ground Flaxseed
1/2 c. Trader Joe's Gluten Free Flour
1/2 c. plus 2 Tbs. Oat Flour
1 tsp. Baking Powder
1/2 tsp. Baking Soda
1/4 tsp. Salt
Preheat oven to 350 degrees. Line standard muffin tins with paper liners or spray with coconut oil spray.
Mix almond milk with vinegar in a measuring cup and set aside.
Mix PB2 with Water then add the coconut oil, erythritol, syrup, vanilla, and flaxseed until well combined.
Add the almond milk mixture and mix until incorporated.
Add dry ingredients to wet mixture. Scrape sides of bowl. Divide batter among muffin cups, filling each 2/3 full.
Bake cupcakes until testers inserted into centers come out clean, about 23 minutes. Let cool in tins on wire racks.
MAKES 12 CUPCAKES
HEALTHY CHOCOLATE PEANUT BUTTER FROSTING
3/4 c. Vegan Cream Cheese
6 Tbs. Trader Joe's Unsweetened Cocoa Powder
3/4 c. Chocolate PB2
1 1/2 tsp. Pure Vanilla Extract
6 packets of Nunaturals Stevia
up to 3 Tbs. Milk of choice, as needed for desired thickness
Blend everything together in a food processor. Frost cupcakes, then store in fridge.
Leftover frosting can be stored for a few days in the fridge, covered.