Festive Greek Yogurt, Spinach & Kale Dip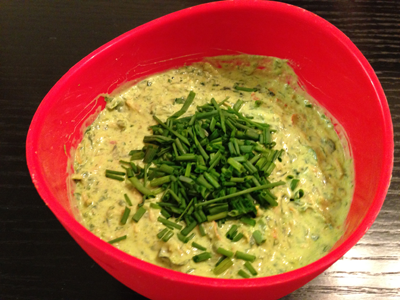 This dip is so delicious, I can't stop eating it when I make it…good thing it's packed with protein and vegetables!
And it looks really festive for the holidays with it's bright green color, especially when served in a red bowl!
FESTIVE GREEK YOGURT, SPINACH & KALE DIP
17 oz. Greek Yogurt (container of 2%, or about 2 c. of your favorite)
3 Tbsp. reduced fat Veganaise mayonnaise
2 Tbsp. Nature's Hollow Sugar Free honey
1 c. kale (finely chopped)
3 green onions (thin, finely chopped)
1/3 c. red pepper (finely chopped)
1/4 c. carrot (finely chopped)
2 garlic cloves (finely minced or pressed)
1 tsp. salt
1/4 tsp. pepper
1/4 tsp. paprika (smoked)
1/4 tsp. dill (dried)
1 tsp. garlic powder
1 tsp. onion powder
1 tsp. mustard powder
2 Tbsp. chives (chopped) (to decorate on top)
Optional: 1 can of Trader Joes Artichoke Hearts, choppped
Mix all the ingredients together in a large bowl, then top with chives.