Vegan No Sugar Chocolate Brownies & Workout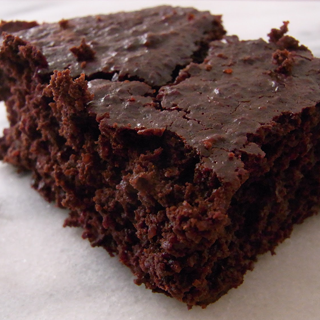 These brownies are so addicting and perfect for when that chocolate craving hits. You won't even realize that they are sugar free, gluten free, vegan, and almost fat-free! Yum! Cocoa is actually one of the highest anti-oxidants and is even more powerful when you use the raw form of cocoa, which is cacao. Cacao powder is easy to find nowadays but you can use either form in this recipe. In addition, while the brownies are cooking, I will lead you through a 20 minute circuit workout. For the workout, you will need one pair of heavy weights, one pair of light weights, a mat, and some space in your living room.
VEGAN NO SUGAR GOOEY CHOCOLATE FUDGE BROWNIES
Coconut Oil Spray
1 C. Unsweetened Applesauce
1 tsp. Coconut Oil
1/2 tsp. Stevia Powder
3 Packets NuNaturals Stevia
1 tsp. Vanilla Extract
1/4 tsp. Almond Extract
3/4 C. Oat Flour or Trader Joes Gluten Free Flour Blend
1/3 C. Unsweetened Cocoa
2 tsp. Baking Powder
1/2 tsp. Baking Soda
1/2 tsp. Coarse Sea Salt
1/8 tsp. Cinnamon
1. C. Vegan unsweetened Carob Chips or Cacao Nibs (optional)
Spray 9X9 Inch Pan with Coconut Oil Spray & Preheat oven to 350 degrees. Mix together Everything except for the Carob Chips/Cacao Nibs.
After it's mixed, you can add the Vegan unsweetened Carob Chips or Cacao Nibs, then spread mixture into pan.
Bake for 20-25 minutes while you get your circuit workout in!
Makes 16 brownies, approximately 50 calories each.