Cherry Vanilla Greek Yogurt Pie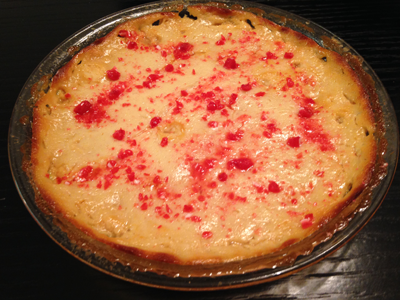 This is a super simple pie that taste delicious and can be really pretty on a holiday table!
It's packed with protein and has a nice tart flavor
for when you need a break from chocolate -
I know, that's rare, right?!
CHERRY VANILLA GREEK YOGURT PIE
1 1/2 c. Greek Yogurt
1/2 c. plus 1 Tbsp. silken-firm MoriNu tofu
1/4 plus scant 1/8 tsp. salt
2 tsp. NuNaturals Cherry Stevia
1-2 tsp. NuNaturals Cherry Vanilla Stevia
2 tsp. cornstarch or arrowroot
1/3 c. sugar free Joseph's Maple Syrup
*NOTE: To make chocolate cherry vanilla pie, simply add 1/4 c. plus 2 Tbsp. unsweetened cocoa powder
Mix all ingredients in a food processor. Poor into prepared crust, then bake at 350 degrees for 40-50 minutes. Let cool and sit in fridge overnight.
GLUTEN FREE OAT FIBER CRUST
1/3 c. plus 1 Tbsp. NuNaturals Oat Fiber
1 Tbsp. NuNaturals Tagstose sweetener
1/3 cup plus 1 Tbsp. Almond Milk
Mix all ingredients together and press down into prepared pie tin (sprayed with olive oil spray). Bake at 350 for 10 minutes.