CCK Sugar Free Fudge in a Jar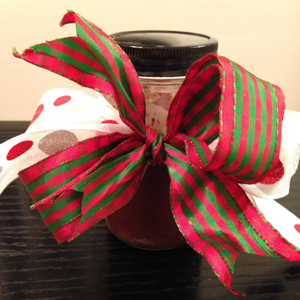 from www.chocolatecoveredkatie.com
This fudge is so easy to make
and makes an awesome holiday gift!
I like to recycle old coconut oil jars from Trader Joe's and put a holiday label/gift note on the front with a nice ribbon.
I simply clean the old jar then fill it with the following recipe for sugar free HEALTHY fudge!
CCK SUGAR FREE FUDGE IN A JAR
1 16oz jar roasted almond butter, or allergy-friendly alternative
3/4 c. virgin coconut oil (120g)
1/2 c. cacao or cocoa powder (20g)
1/4 tsp. salt (my almond butter was unsalted)
1 tsp. pure vanilla extract
1/4 tsp. NuNaturals liquid vanilla stevia, or 3 Tbsp. sugar of choice

Start with a jar of room-temperature nut butter. If there is any oil at the top of the nut butter, stir it in until smooth.
Now take 2/3 cup nut butter out of the jar and set aside for a different use. Stir the 3/4 cup coconut oil into the jar until smooth.
Add the cacao, salt, vanilla, and sweetener, and stir again until completely smooth.
Place in the fridge, where it will soon harden into fudge.