About Selah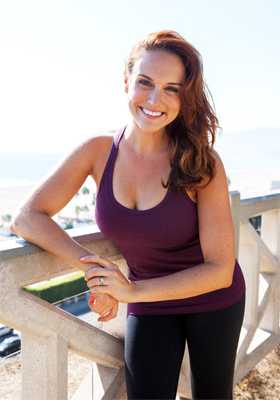 WHO AM I?
I am an NASM Certified Personal Trainer, Group Fitness Instructor, and Nutrition Counselor. For the past ten years, I have trained and counseled clients from all ages and walks of life in a wide variety of areas such as weight loss, injury rehabilitation, senior citizen fitness, strength gain, balance/coordination and clients with special conditions (arthirits, joint pain, back pain, knee pain, shoulder pain, obesity, fibromyalgia, high blood pressure, diabetes).
MY BACKGROUND
My personal fitness journey began in childhood. My Dad was a professional basketball player and gave me, my 6 brothers and my sister an incredible knowledge of fitness and health. I knew about whole grains, free radicals, and empty calories before most kids could read! My Dad even taught us how to grow our own fruits and veggies in the backyard. Needless to say, we were all extremely into sports. I competed as a swimmer, volleyball player, cheerleader and runner from when I was 6 years old all the way through high school.
PERSONAL TRAINING
I customize programs based on the individual client …
NUTRITION COUNSELING
I offer weekly individual nutrition counseling …
GROUP FITNESS
In addition to personal training, I am also a Group …
HEALTHY HABITS & RECIPES
Wanna know some of my favorite tricks of the trade …
My senior year of high school, I focused on other interests outside of sports and started to put on weight. This is when I first began working out in order to stay fit outside of recreational sports. My Dad had laid the foundation, now I wanted more. I read everything in sight and even started training clients at the local gym with the basic knowledge that I had.
While in college at UC Irvine, I continued to workout and train clients part time, but I noticed that my weight was swinging up and down drastically. I knew what were "good" foods and "bad" foods, but I didn't understand the psychology behind why it was easy for me to sometimes stay on point and yet at other times it was so difficult. It was time I really learned nutrition. I took some courses at UC Irvine and was hooked. When I graduated college and moved to Los Angeles, I decided to make my passion for Fitness and Nutrition both a lifestyle and a career.
I feel I am truly able to help people because I have been there myself. I understand the behavioral issues behind food and working out and I am able to guide people to their absolute best self through my experience and knowledge. I am able to enjoy a balanced and healthy lifestyle and I love helping others learn to do the same!